We are delighted for Abbie Greaves, whose stunning new novel The Ends of the Earth is now available in UK hardback (Penguin Random House). The breathtaking story about one woman who holds a sign at Ealing Broadway station every single day with the words: 'Come Home Jim' is one we cannot wait for readers to get their hands on. It's a story of grief, love and loss, that asks a universal question – how far would you go for the love of your life?
The Ends of the Earth has been included in a number of press reviews and roundups in the leadup to publication, including the BuzzMag, who described it as 'a thoroughly immersive and engaging novel, and ultimately a heartwarming read', and New Magazine, which said 'fans of Jojo Moyes will love this intricate tale of a woman searching for answers about a lost lover.' As part of the publicity campaign, Abbie also wrote a short story that was published in My Weekly called Hello April, about a woman who attends a horror of a school reunion, only to turn painful memories into a powerful statement.
Recently, Abbie was shortlisted for the Katie Fforde Debut of the Year at the 2021 Romantic Novelists Association Awards for her debut novel, The Silent Treatment.
The blog tour for The Ends of the Earth kicks off today, so give these accounts a follow if you're keen to hear more: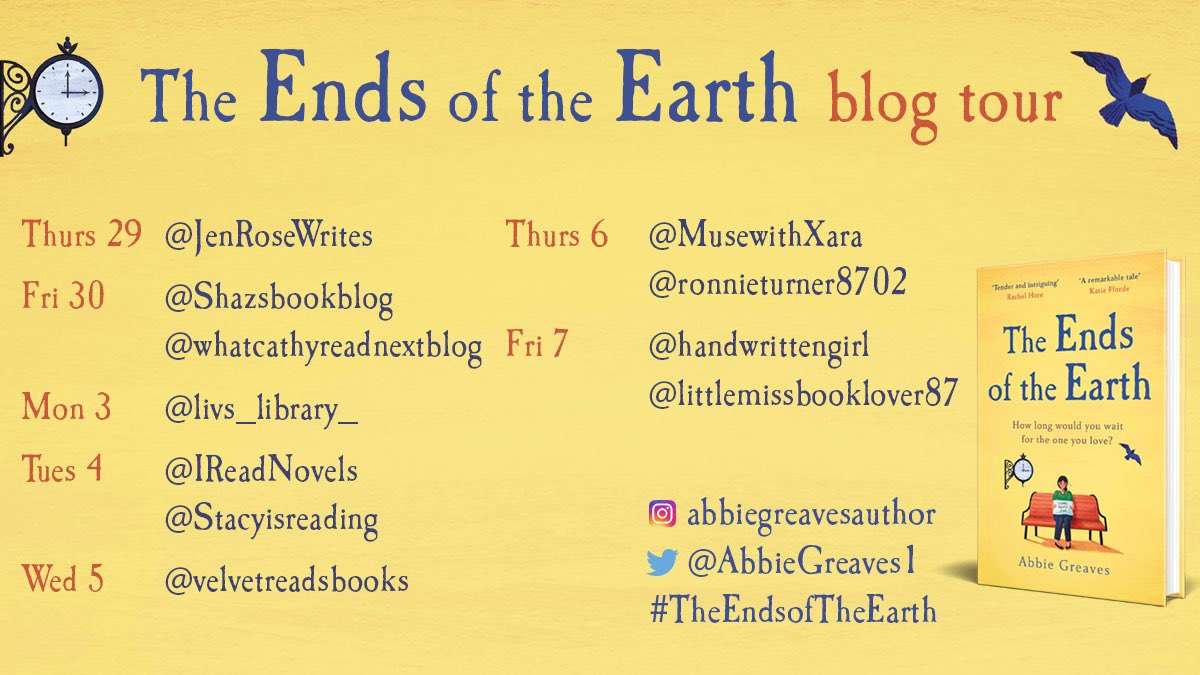 Early readers have been nothing but positive:
'A remarkable tale of love and loss and finding something different' Katie Fforde
'Tender and intriguing, this page-turning story of loss and longing will twist your heart' Rachel Hore
'Mary and Jim's story will draw you in, keep you guessing and stir up every available emotion. A truly enthralling, moving read – I loved it' Holly Miller
We can't wait for readers to get themselves a copy…
Mary O'Connor has been keeping a vigil for her first love for the past seven years.
Every evening without fail, Mary arrives at Ealing Broadway station and sets herself up among the commuters. In her hands Mary holds a sign which bears the words: 'Come Home Jim.'
Call her mad, call her a nuisance, call her a drain on society – Mary isn't going anywhere.
That is, until an unexpected call turns her world on its head. In spite of all her efforts, Mary can no longer find the strength to hold herself together. She must finally face what happened all those years ago, and answer the question – where on earth is Jim?
A huge congratulations on this very special day, Abbie! And if you have not ordered your own copy yet, you can do so here.